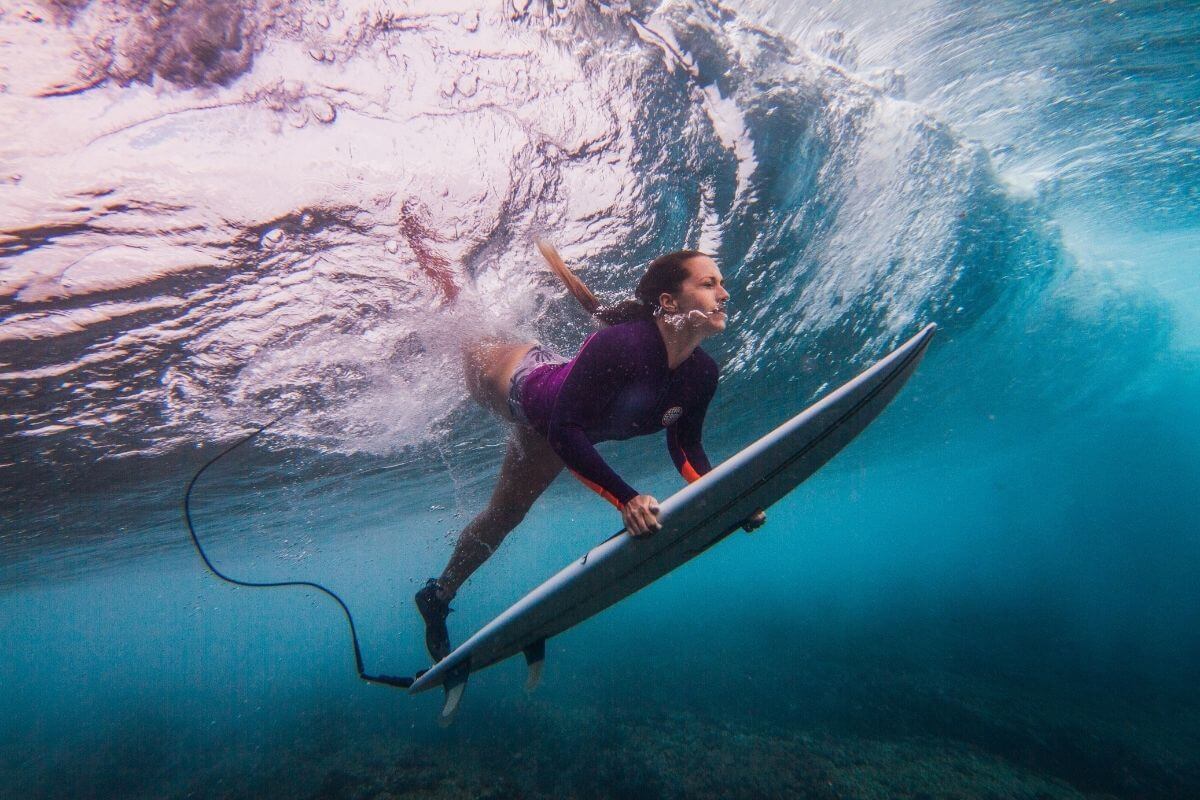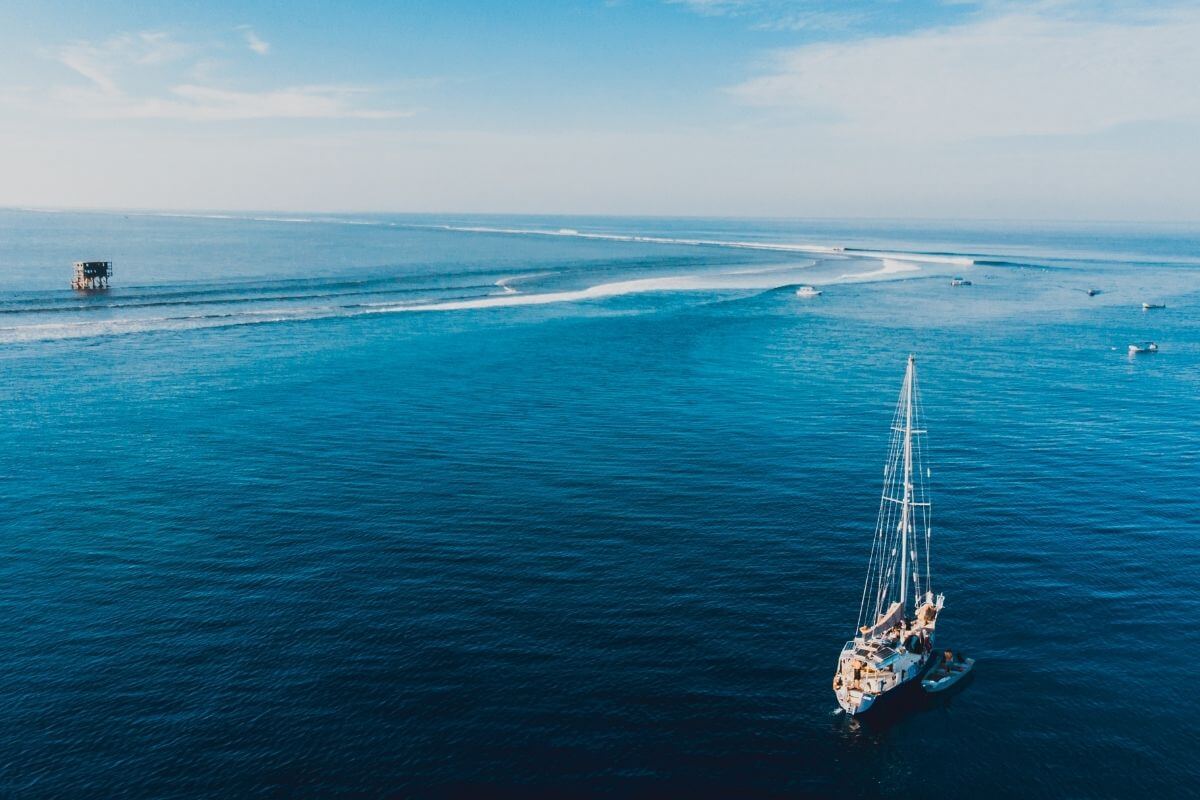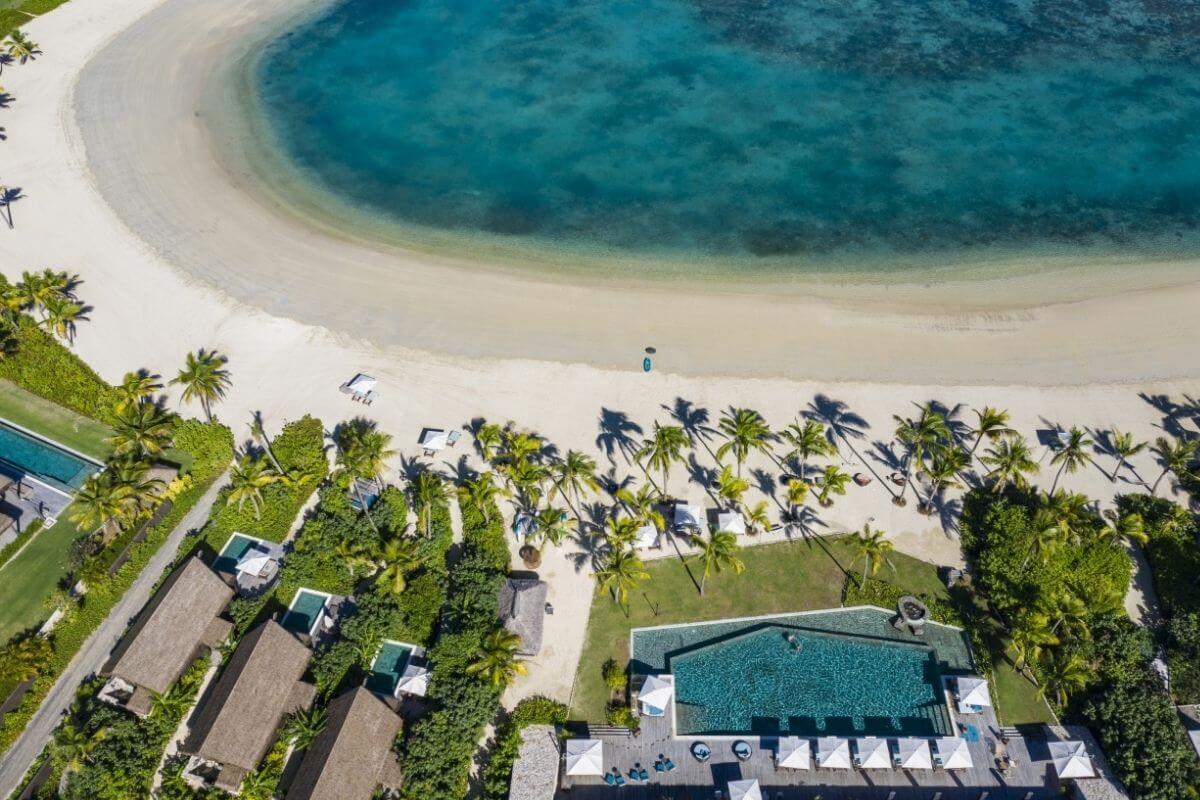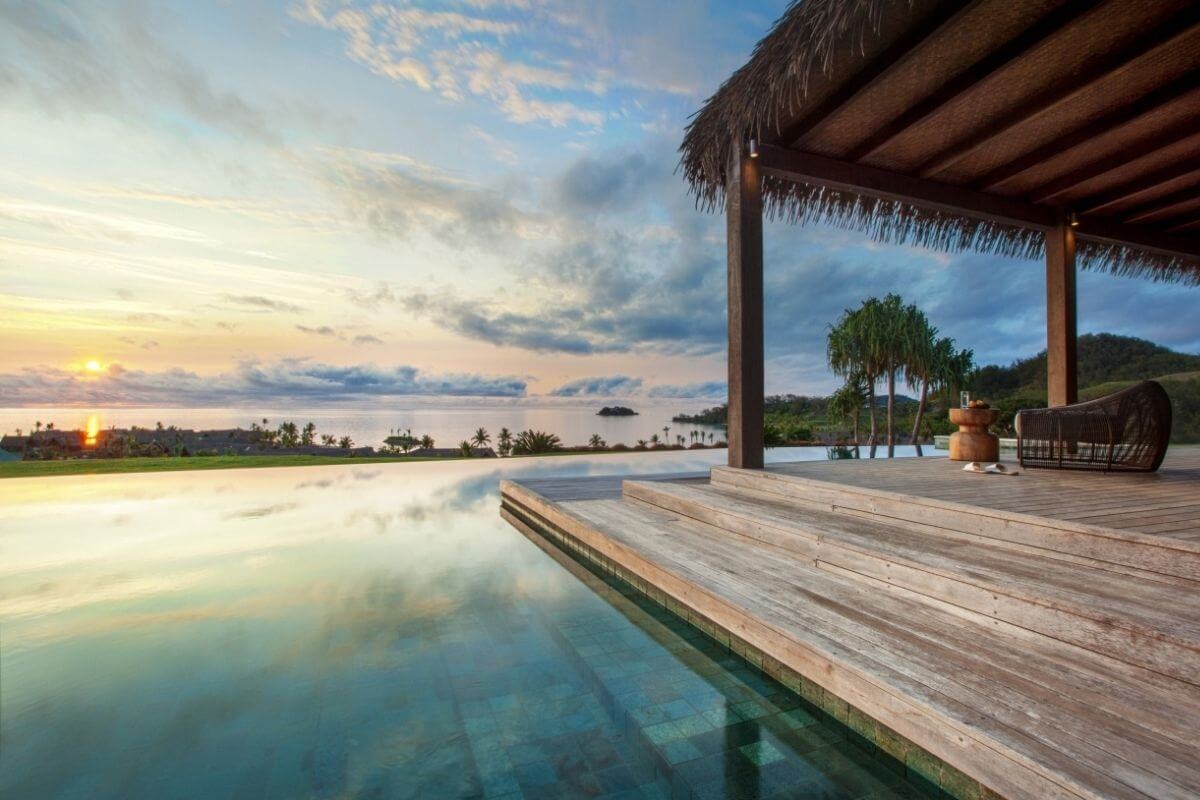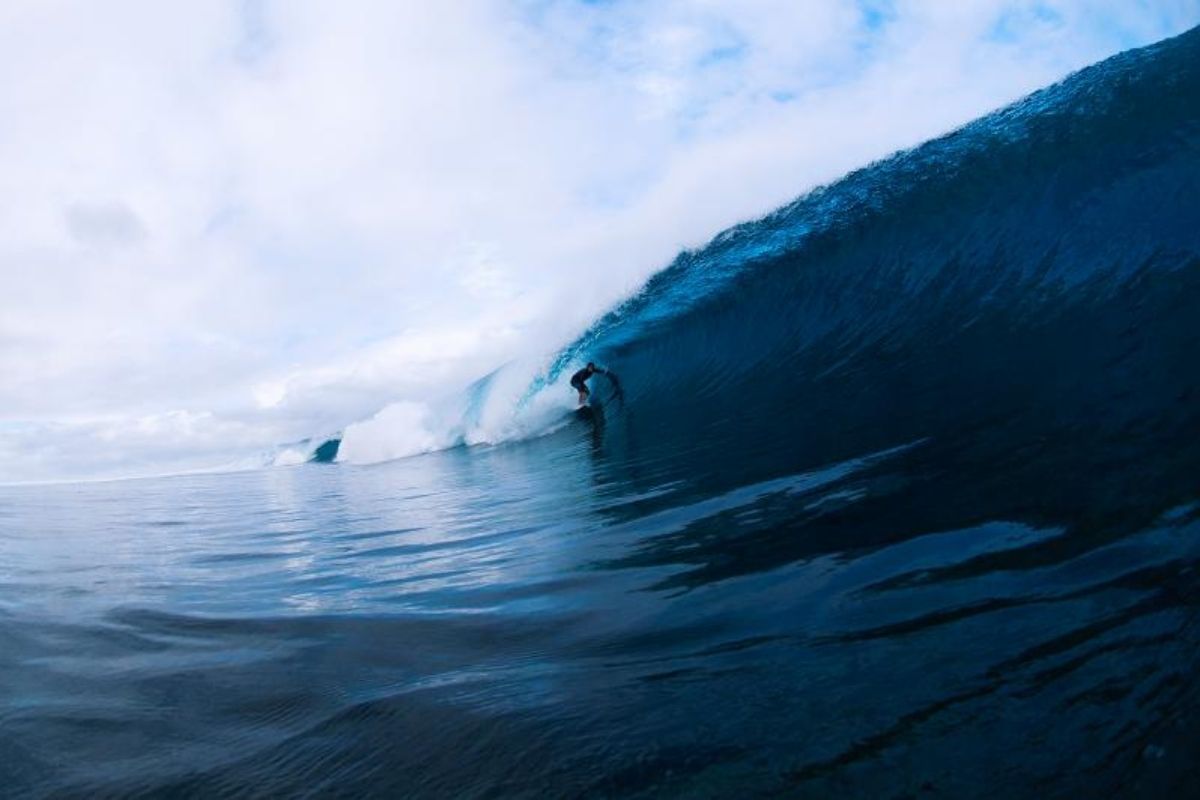 Your Guide to Surfing in Fiji!
Bula! Welcome to AWAVE Travel's guide to surfing in Fiji!
The Fijian archipelago is renowned amongst surfers and travelers for the unparalleled, world-class waves. It is also one of the most hospitable and friendly nations of people in the world!
This guide will explain where Fiji is and when the best times are to go. We will also look at how to get there and include a few insider hints and tips to ensure an unforgettable trip!
With a wide variety of world-class waves such as the legendary Cloudbreak, Restaurants, and Frigates, Fiji is an epic surf destination. The reef passes in the country can handle a multitude of swell, wind, and seasonal combinations. This makes it a year-round destination that has something for all surfing levels!
AWAVE Travel has a great range of resorts and surf charters in Fiji and the Pacific Ocean. These will get you to the best surf, in comfort and style!
Where is Fiji?
Fiji is an archipelago of over 300 islands nestled in the South Pacific, roughly a three-hour flight away from New Zealand. The country can be divided into three main surf regions:
Mamanuca Islands – Home to the world-famous Cloudbreak, this area holds a serious level of prestige in the surfing world. It is a small set of islands directly off the West Coast of Viti Levu, which has a variety of different reefs for each type of surfer.
Coral Coast – The perfect location to find a quieter, stunning coastline for Fiji surfing! The Coral Coast is situated in the South of the main island, Viti Levu. Less famous than the Mamanucas but packing just as much of a punch with waves such as Frigates, Fiji Pipe, and Jay's, this is an unforgettable destination to visit.
Taveuni – Full surf isolation in tropical paradise! Taveuni is famously known as the garden island of Fiji, named after the abundance of nature and plant life that can be found there. Surf waves such as South Passage in the peaceful ambience of one of the most beautiful areas in the world.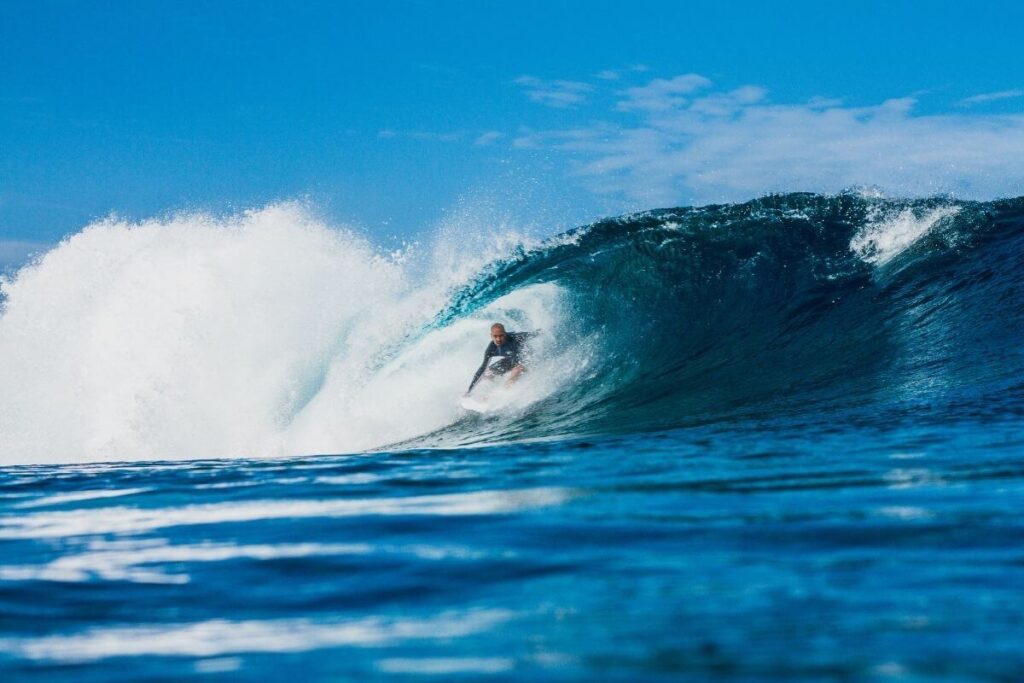 Best time for Surfing in Fiji
When to travel to Fiji? Due to the location of the Fijian Islands in the South Pacific, there really isn't a bad time to travel as there are always waves to surf! It is a year-round destination because of its exposure to consistent swell on its varying breaks.
Fijian summer (November – April) typically has small swells in the popular surf zones of the Mamanucas and the Coral Coast, however, when swells do arrive at this time of year they are usually accompanied by very favourable winds. Additionally, with Taveuni being situated on the opposite side of Fiji to the Mamanucas and Coral Coast, swells are generally more consistent there during the summer as the swell window is more open to surf during that time.
Fijian winter (March – October) is revered for its strong South swells and offshore winds. This is the season for monumental Cloudbreak swells, unforgettable barrels, and beautiful weather.  It's worth noting that the World Tour hosted their Fiji event each year at Cloudbreak during May, which speaks for itself when you see the kind of waves that those past events have been blessed with. For those intermediate and advanced surfers looking to avoid the crowds, we would recommend traveling during the shoulder seasons in Spring and Fall, where consistent swell will still be plentiful!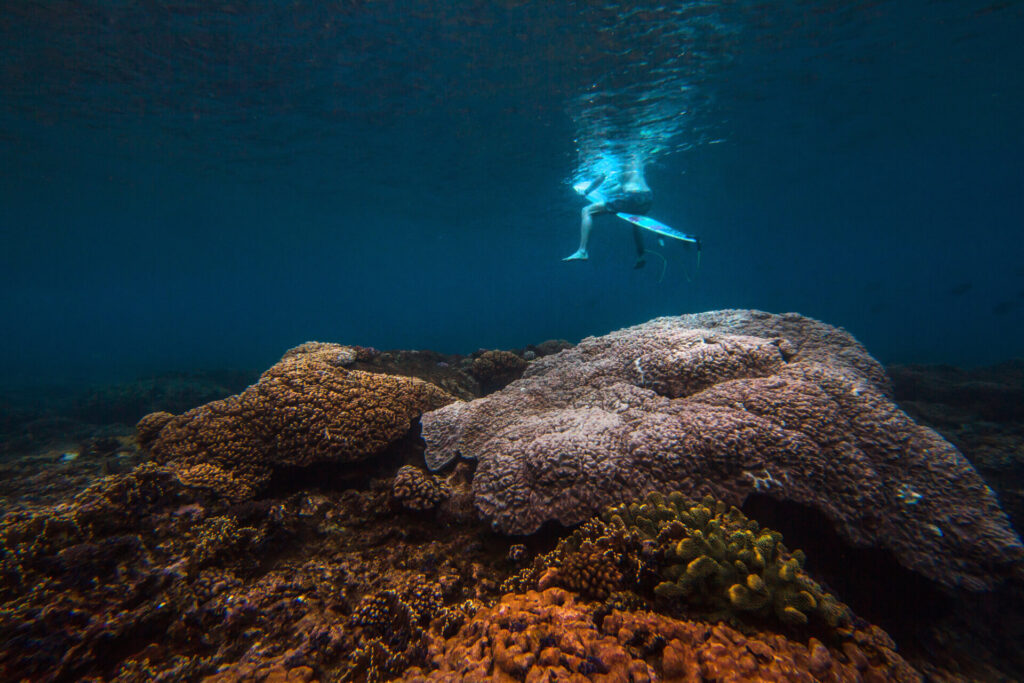 How to travel to Fiji
How do you get to Fiji? Nadi international airport, located conveniently on the west side of Viti Levu, is the choice airport for international travel. We recommend Fiji Airways for its high-quality level of service and awesome surfboard baggage policy (surfboards go towards total baggage allowance and are not charged separately)!
If you are traveling to the Mamanucas, transport will pick you up upon airport arrival and take you on a short drive to Denarau Harbour, where a speedboat transfer will be waiting to complete the journey to the resort or charter.
For the Coral Coast, resort transport will collect you from Nadi and a beautiful drive along the southwest coast of Viti Levu will bring you to your destination. Taveuni-based trips require a domestic flight from Viti Levu to Taveuni, with further transport via car and boat required to reach one of the most idyllic vacation spots in the world! AWAVE Travel experts will be on-hand to assist in arranging logistics when traveling to Fiji!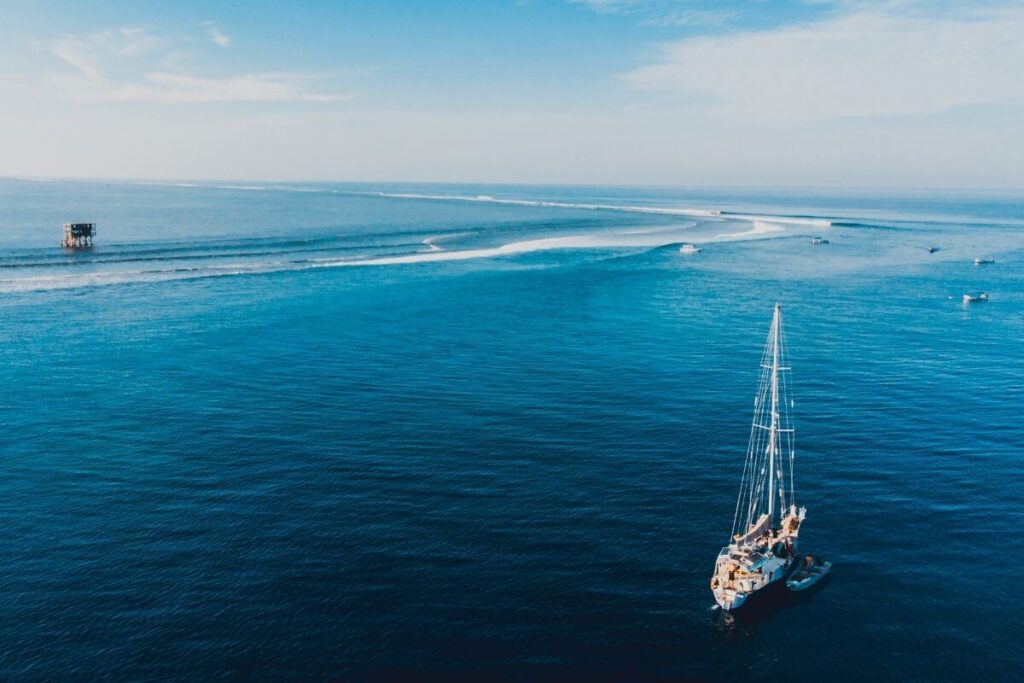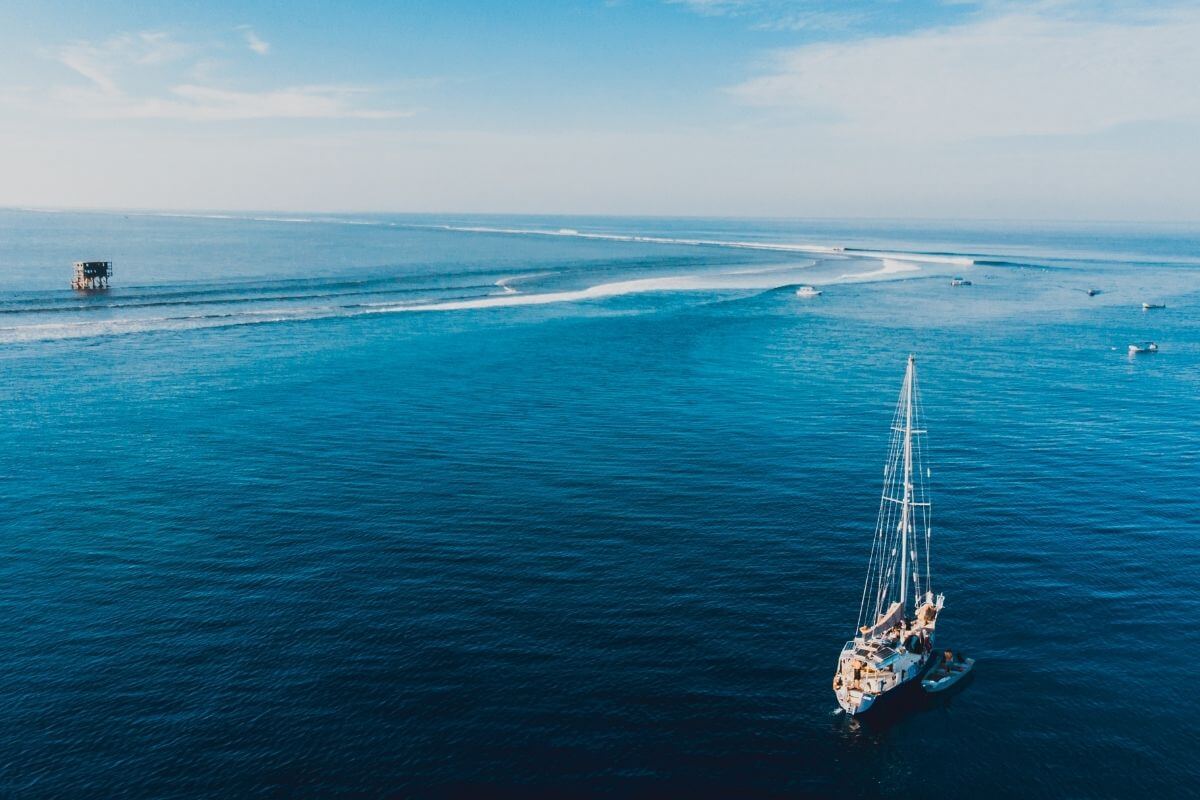 AWAVE Travel's favourite Waves in Fiji
The Fijian archipelago play host to unparalleled quality, world-class waves! With something for everybody, from thunderous tubes to soft, playful reefs, Fiji really is the dream destination for every surfer. The AWAVE Travel team loves surfing in this region and have picked a few of our favorite waves:
Cloudbreak
The jewel in the crown of Fijian surfing, Cloudbreak is one of the best lefts in the world! It offers those willing the chance to experience the surf of their lives, with long, barrelling, tropical waves up for grabs! A powerful wave on everybody's bucket list! 
See the forecast here.
Restaurants
A truly classic wave, Restaurants is a fast, mechanical, barrelling left that's nestled next to the island of Tavarua. Requiring strong SW groundswell to bring it to life, with offshore conditions in trade winds, this wave is a quality, winter gem!
See the forecast here.
Swimming Pools
Directly in front of Namotu island is Swimming Pools, a fun, playful right-hander. Really popular with advanced beginner and intermediate surfers, the crystal-clear water and beautiful reef of Swimming Pools ticks all the boxes for surf in paradise!
See the forecast here.
Fiji Pipe
South of Vunaniu bay, Fiji Pipe is a top pick for those looking for hollow, left-handers in the Coral Coast. Short, sharp, and to the point, Fiji Pipe offers great barrel rides with particularly epic, consistent conditions during Fiji winter!
Frigates
A long, offshore, left-hander that can hold its own with Cloudbreak on its day! Frigates is a real swell magnet offering surfers consistent, punchy waves in a beautiful open ocean setting! 
See the forecast here.
South Passage
Taveuni's premier wave, also known as Maqai point, offers surfers the chance to ride world-class right-handers in an untouched corner of the world. Due to its geographical position, South Passage actually performs better in the Fijian summer, where SE trade swells and north pacific groundswells find their way to the reef often accompanied by light winds. South passage offers tubes and walls and fits well for both the intermediate and advanced surfer.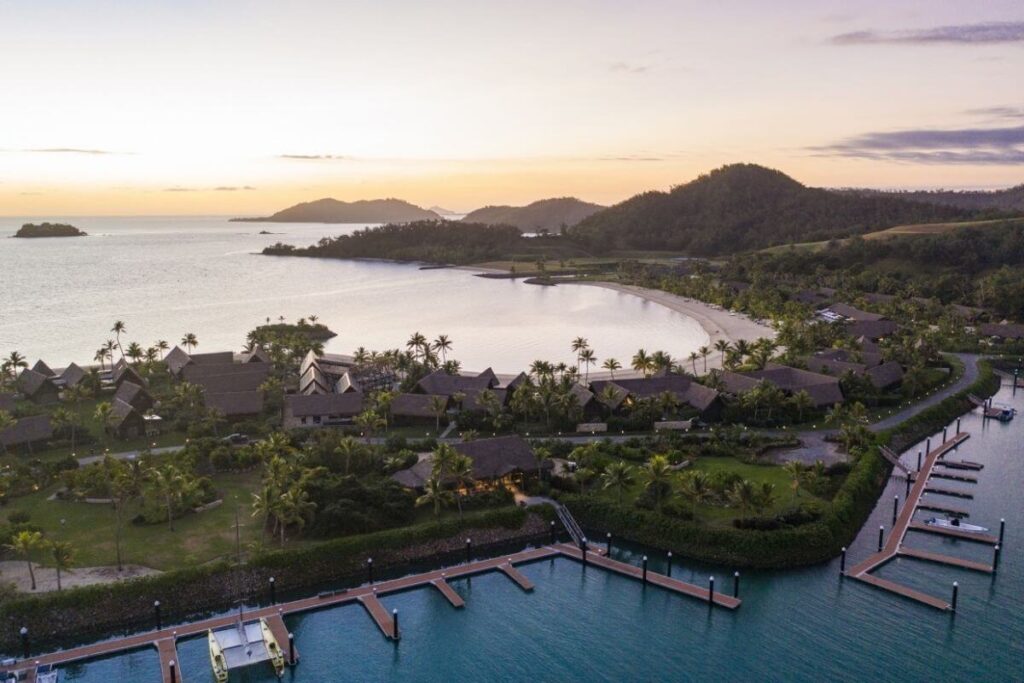 Where to stay in Fiji: Resorts
If you are looking for comfort and luxurious accommodation whilst surfing in Fiji, our range of resorts could be perfect for you! These allow you access to some of the best waves in Fiji with beautiful accommodation.
Step onto the perfect Malolo Island, the ideal tropical setting for the luxurious Six Senses Fiji. The resort offers a total of 24 beautiful villas, making it smaller and more intimate than many other luxury offerings, just one of the many reasons we love Six Senses Fiji!
As with all Six Senses resorts, the resort makes every effort to be as environmentally responsible as possible, whilst also offering the barefoot luxury that is now synonymous with the brand. The resort is just a short boat ride from a range of world-class waves, including Cloudbreak, one of the best left-hand barrels in the world! With a range of waves for all levels, surfing in Fiji has never been so luxurious. Six Senses Fiji is the perfect way to surf tropical perfection in the South Pacific.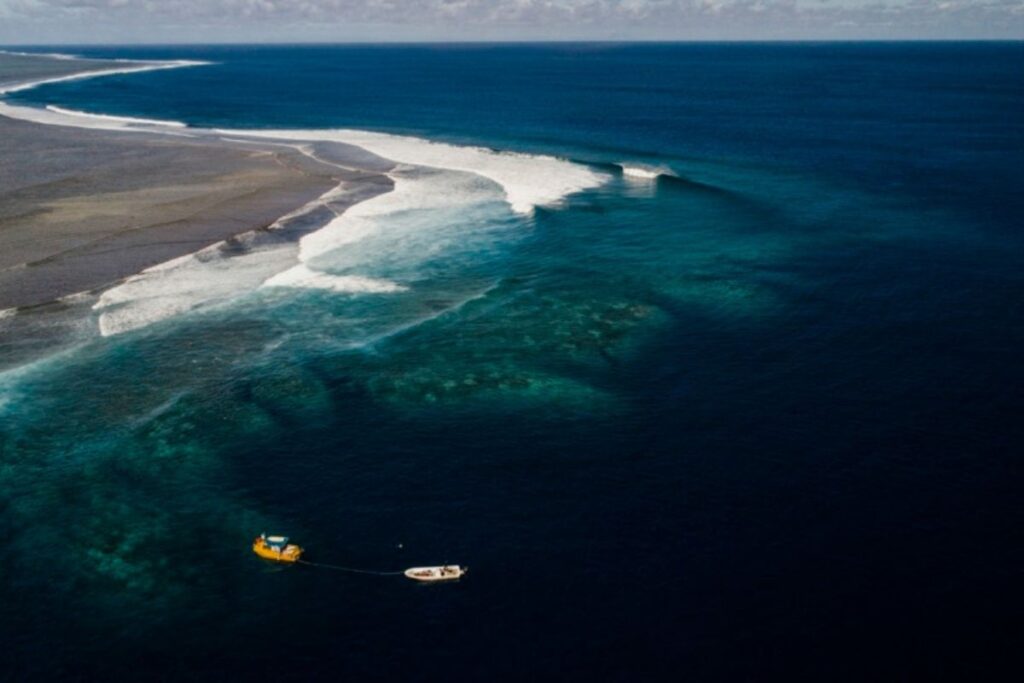 Matanivusi is a boutique eco-resort on Fiji's Coral Coast, located on the southern end of the main island, Viti Levu. The resort specializes in surfing, offering selected access to 7 separate reef breaks including the world-famous Frigates.
Beautifully designed, taking full advantage of the surrounding natural beauty, the resort is set between a creek and a white sand beach. Named by STOKE as the world's first sustainable surf resort, Matanivusi also offers a range of health, wellness, and ocean activities catering for solo travelers, groups, couples, and non-surfers alike!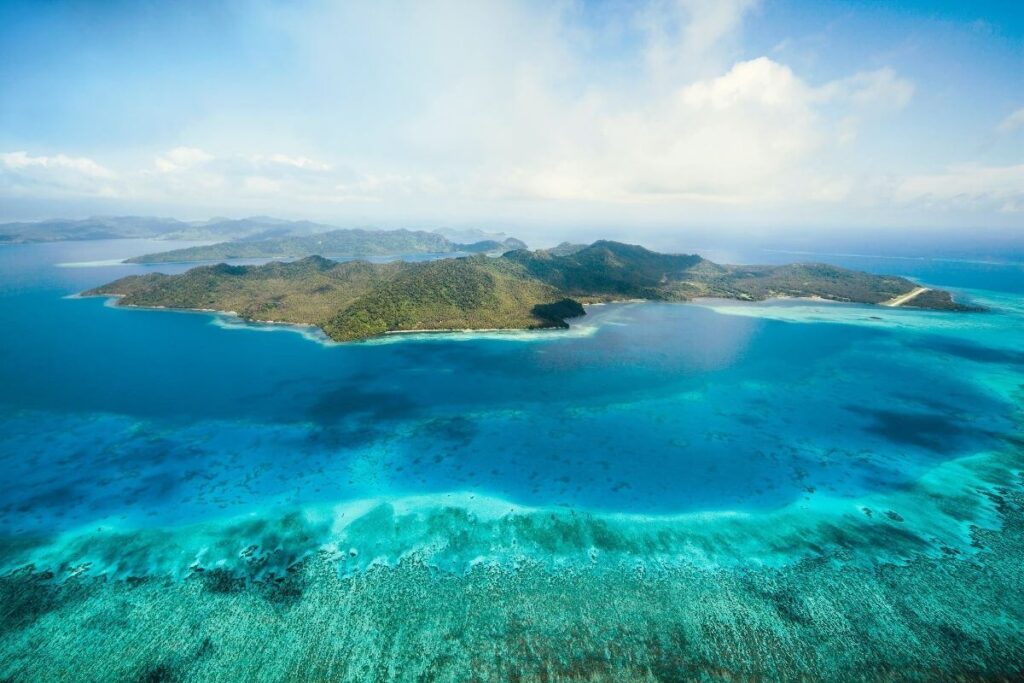 COMO Laucala Island is a luxury private island resort located in the wave-rich waters of Melanesia, in the Cakaudrove province of Fiji! The resort aims to be a getaway that provides the most luxurious experience.
Fiji's natural beauty and modern architecture are blended in the design of the accommodations, giving a feeling of balance between the rainforests, white sand, and cobalt reef. Laucala Island is home to some of the best breaks in Fiji and the resort has boat access to quality uncrowded waves!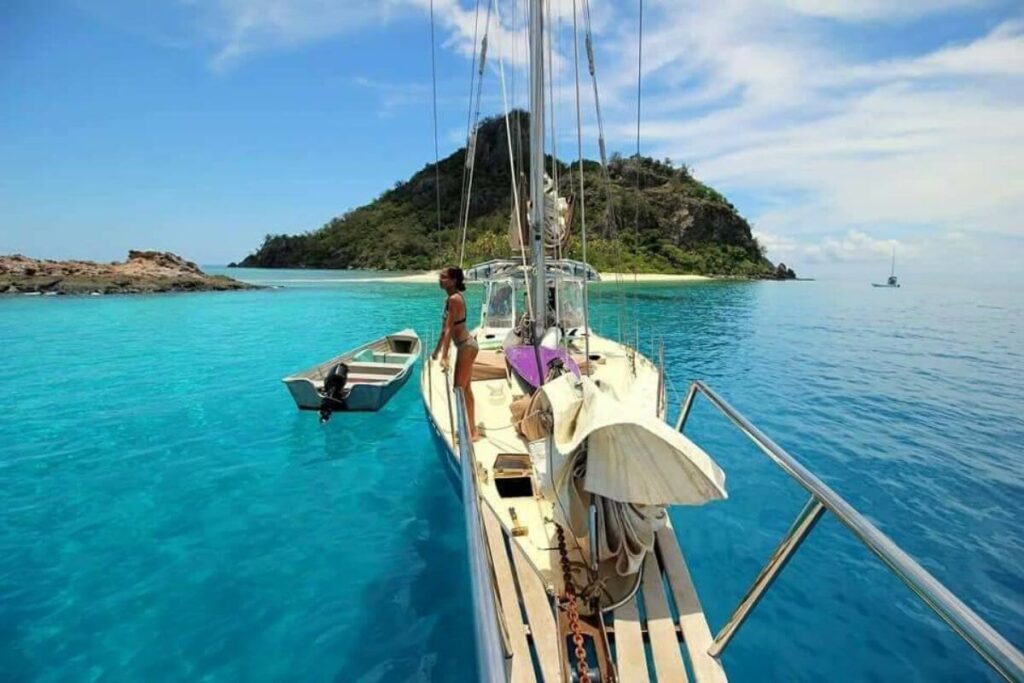 Surfing in Fiji: Charters
As you may have guessed, we at AWAVE Travel love surf charters! Being onboard a quality charter allows you the flexibility to surf where you want when you want. If you're happy to forgo some of the luxuries that you would find on land, a charter is the most flexible way to surf in Fiji!
Please see a couple of the great options that we have available for your trip surfing in Fiji!
Live your dream of surfing some world-class breaks on board of Gipsea! Ideal private charter for small groups looking for an extraordinary experience of endless tropical waves!
The sister charter of Gipsea, Fantasea is the perfect small private charter for groups looking to score the world-famous Fiji waves of Mamanuca Islands! Come on board with the friendliest crew for the extraordinary experience of pumping tropical surf!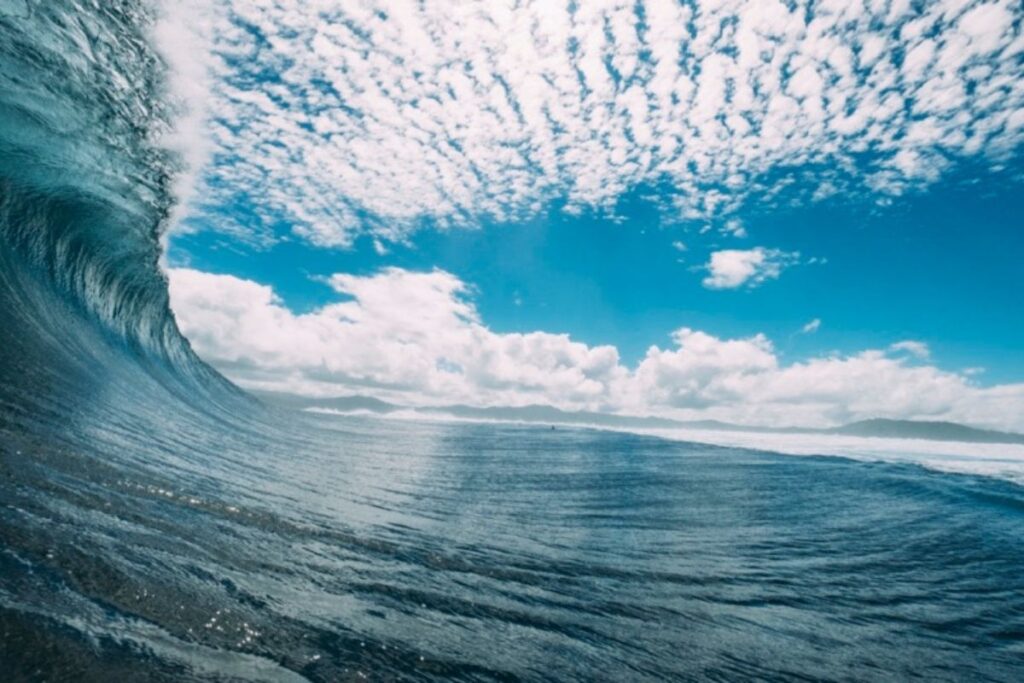 What to Pack
This beautiful archipelago is renowned for its fantastic warm, tropical climate and year-round surfing opportunities due to its position in the Southern Pacific Ocean. Surfing in Fiji is a dream trip so being prepared can make all the difference in the water!
Because of Fiji's remote location, AWAVE Travel recommends you bring the following items along with you on your Fiji Surf Trip:
2 or 3 surfboards

Spare leg-ropes

Surf wax

Sunscreen (lots of it!)

Zinc

Surf hat

Rash Guard

first aid kit

Ding repair kit
Travel Insurance
World Nomads offers simple and flexible travel insurance and safety advice to help you travel confidently. World Nomads offers travel insurance for independent travelers and intrepid families. It has been designed by travelers for travelers, with coverage for more than 150 activities as well as emergency medical, lost luggage, trip cancellation, and more. Buy at home or while traveling and claim online from anywhere in the world.
Booking Your Trip
AWAVE Travel's team are here to help you find the perfect resort or charter for your trip. Once you have decided on the trip and the route that would suit you, we can set you up with an offer for booking!
All of our trips are covered by our Best Price Promise, so you will always get the best rate booking with AWAVE Travel!